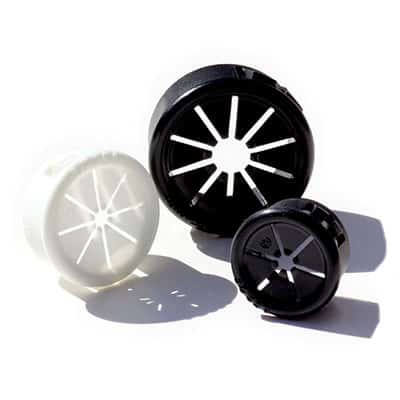 All-Fit Adjustable Bushings
All-Fit Adjustable Bushings provide protection for wire, tubing, or cable from sharp or unfinished edges. The multiple web or shutters absorb shock and vibration, and the locks snap into place into panel thicknesses ranging from 1/32″ to 1/8″. The split design allows the bushings to be installed into holes that may already contain a bundle.
All-Fit Adjustable Bushings are made of material heat stabilized Nylon UL 94V2 with a temperature index of 105°C, and come in standard black, but are available in white on request. They provide a simple and secure solution for wire management applications.
Snaps into place
Lightweight
Resistant to corrosive substances
High temperature stability
Secure grip
High tensile strength
Impact resistant
Easy to install and remove
Vibration resistant
Applications for All-Fit Bushings:
Automotive
Electronic equipment
White goods
Construction
Furniture
Fabrication
Signage
Vending/ATM
Manufacturing
Electrical
HVAC
Security
Military
About Essentra Components/Micro Plastics:
Essentra Components/Micro Plastics manufactures nylon or plastic fasteners that are used a variety of industrial applications. Essentra Components is comprised of three companies: Micro Plastics, Richco Inc., and Alliance. Advance Components has been a master stocking distributor of Micro Plastics products for over 20 years, so we are now happy to offer our customers products from the Essentra Components line. Advance Components has an extensive inventory of Essentra Components fasteners and a dedicated sales team that is able to provide custom solutions to meet your specific assembly needs. If you are unable to locate a specific part, contact the sales team and we will work with you to find a part or substitute that will meet your requirements.