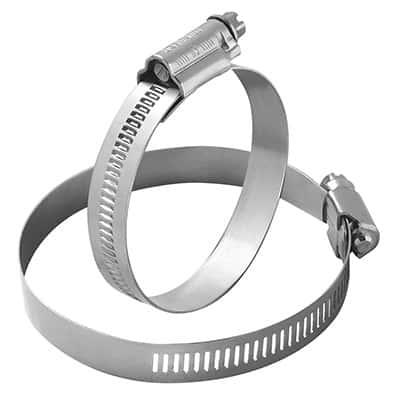 Worm Drive Hose Clamps – American Style
American Style (IFE-AS) worm drive hose clamps by IFE Americas USA are traditional style clamps that have a crimped or interlocked design that is not welded. IFE-AS clamps are made of economic W2 stainless steel band and housing with a zinc plated carbon steel screw, or W4 all 300 series stainless steel. The clamps are ideal for securely holding small vessels, filter, signs and flag in place.
Corrosion-resistant W2 and W4 stainless steel
Liner version available to protect hoses
High clamping force
Non-slotted band reduces hose extrusion
1/2″ bandwidth with 5/16″ screw head
5/16″ micros version with 1/4″ screw head
Applications:
Automotive
Agriculture
Heavy equipment
Marine
Heavy truck
Lawn & garden
Fluid storage
Material handling
Power generation
Irrigation
About IFE:
IFE Americas USA supplies worm-drive hose clamps for the USA and Canadian markets. IFE supplies connection and protection products for automobiles. buses, heavy trucks, marine and motorcycles for both OEMs and aftermarkets. IFE hose clamps are manufactured for use with traditional gasoline and diesel engines as well as electric (both battery and hydrogen) and CNG powered propulsion.
Advance Components is a master stocking distributor of IFE Americas USA worm drive clamps in American, German and Mini Clamp styles. Our dedicated sales team provides applications support and custom solutions to meet your specific assembly needs. If you are unable to locate a specific part, contact the sales team and we will work with you to find a part or substitute that will meet your requirements.