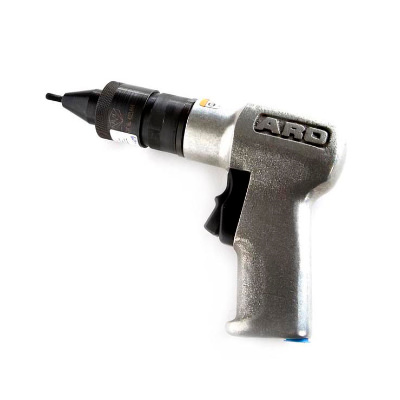 Pneumatic Installation Tools
AVK Pneumatic Installation Tools are used to quickly install AVK threaded inserts. They feature a Quick-Change thread adaption kit for easy access to thread size component parts. AVK Pneumatic Tools have a dependable and comfortable ergonomic design with a rocker-style forward and reverse trigger, and provide the highest RPM for optimum installation speed.
Advance Components stocks AVK Pneumatic Installation Tools and is an authorized repair station. AVK Industrial installation tools are designed to install all types of AVK blind threaded inserts.
Uses torque for installation
No adjustments for material thickness
Comfortable to use, lightweight
Knurled nose eliminated "kick"
Easy maintenance
Quick-change thread adaption kit
Rugged, reliable design
AVK Industrial also manufactures hand tools that are portable and ideal for field repairs and installations of AVK inserts. Advance carries a variety of AVK hand tools that are portable, easy to use and great for quick installations.
About AVK Industrial Products:
AVK Industrial blind installed threaded inserts and installation tools are manufactured for industrial and transportation markets worldwide, and are used in many applications including:
Lawn & garden
Medical equipment
Military ground support & vehicles
Office furniture
Recreation
Refrigeration
RV industry
Trucks & trailers
Appliances
Architectural
Auto/Sport/Utility vehicles
Electronics cabinetry
Exercise equipment
Food service
Furniture
Heating & air conditioning
Blind installed threaded inserts by AVK Industrial are made in the USA. Using a patented technology called "Spinwall Technology", AVK inserts have unique mechanical and installation properties which makes the body of the insert expand and fill the hole prior to backside flange formation.
Advance Components is a master distributor of AVK Industrial blind threaded inserts, pneumatic installation tools, and AVK Pneumatic Installation Tools, so we have a large in-stock inventory. Advance is also an authorized AVK Tool Repair Station. We have a highly trained sales team who are able to provide custom solutions to meet your specific assembly needs. Contact Advance with any questions you have about AVK inserts and installation tools.