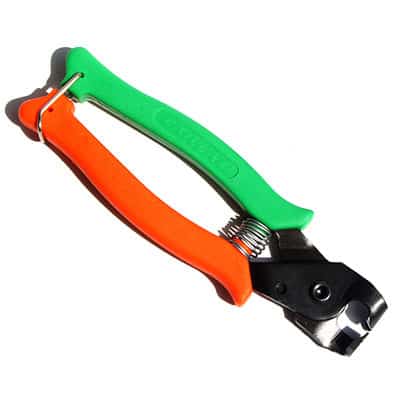 CLIC Hose Clamps Pliers are used with installations of Caillau CLIC Hose Clamps. Caillau pliers are easy to use and provide a fast 1-2-3 application on CLIC, CLIC R and CLIC E hose clamps. Caillau CLIC Hose Clamps pliers and clamps provide a secure grip when used to attach fittings to hose and tubing.
CLIC R clamps are made of a single stainless steel component that has a slot with a hole to pre-position the clamp on the hose. CLIC R hose clamps are a great solution for sealing joints and can withstand temperatures -30°C to +130°C.
The CLIC E clamp is made of two 9 mm-wide stainless steel bands, one of them ensuring the constant tension that allows the clamp to seal hose joints under extreme temperatures ranging from -40°C to +140°C. CLIC E hose clamps are ideal for heavy duty applications.
CLIC clamps are standard single part clamps that are light weight and compact. They assemble quickly and are ideal for tight applications. CLIC hose clamps can withstand temperatures -30°C to +130°C.
High clamping force
Expandable grip
Color coding for multiple diameters
Efficient spring function
Resistant to pull-off
Vibration proof
Quick, easy application
Reusable
Applications for CLIC Hose Clamps:
Automotive
Industrial
HVAC
Shipping
Aerospace
Electrical appliances
Plumbing
Automotive aftermarket
About Caillau:
Caillau has been a leading manufacturer of engineered hose clamps and connectors for over 100 years. In the 1970's Caillau developed and launched CLIC clamps. Both automotive and industrial markets discovered CLIC clamps were weight saving fasteners, reduced assembly cycle times and were the ideal solution for tight packaging applications.. Performance, innovation and reliability are at the core of Caillau's values. Caillau continues to bring light, lean and efficient fastening products to the market.
Advance Components is a master distributor of Caillau CLIC hose clamps. We keep a large variety Caillau products in stock for fast shipping and no lead times. The Advance sales team is highly trained in CLIC hose clamp applications, and are available to help customers choose the right part for the job. Contact Advance for more information, custom bagging and shipping, samples and quotes.