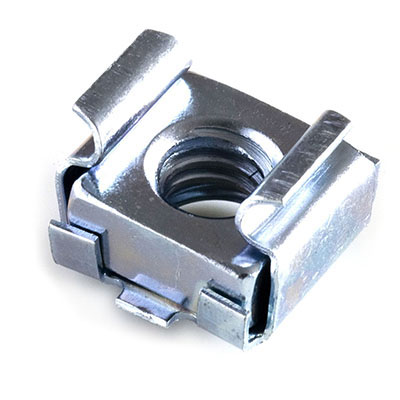 Cage Nuts or Captive Nuts are self-retaining fasteners that are ideal for rack & equipment mounting applications. They are the perfect combination of a spring steel fastener and a high-strength multi-threaded nut. Easy to install, Captive Nuts snap into bolt-receiving position at panel edges or centered-panel locations.
Cage Nuts have spring-steel "mechanical hands" or wings that keep the nut stationary in a square hole which helps with bolt insertion. As the Cage Nut is pressed to locked position, the mounting legs expand around the panel and force past the retainer spring tabs which snap back to lock the fastener firmly in place. They can be applied at any convenient spot along the assembly line. 
Easy installation, no special tools required
Ideal for blind location assembly
Excellent "pullout" resistance
Won't turn when bolt is tightened
Attaches components to panels with square holes
Serviceable – parts disassemble easily
Snaps into bolt receiving position at center panel
Vibration and rattle proof
Extra high torque & holding power
Applications for Cage Nuts:
Server racks
Grill panels
Blind assemblies
Cabinet construction
Automotive
HVAC
Electrical equipment
About ARaymond/Tinnerman:
ARaymond/Tinnerman is a global supplier of fastening solutions. Advance Components has been an authorized master distributor of Tinnerman products since 1972. ARaymond/Tinnerman has a large portfolio of products including stamped metal fasteners, plastic fasteners, and molded wire and cable management systems. Advance Components carries a large inventory of ARaymond/Tinnerman products for our customer's needs. We offer low minimums, in-stock solutions and on-time delivery on all Tinnerman products. Available to purchase online, or contact the Advance sales team for applications support, quotes and samples.