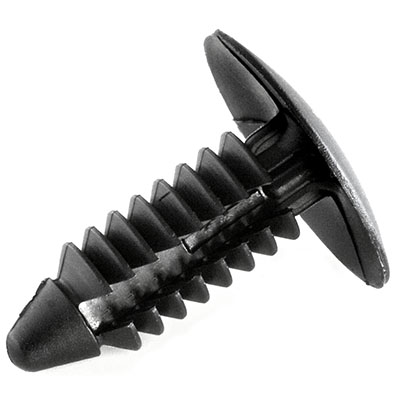 Christmas Tree Clips | AdvanceBasics
X-Mas Tree Clips or Christmas Tree Clips are push-in fasteners that hold two panels together without the need for any secondary fastening devices. They have barbed teeth or fins that lock into the edges of the hole when pushed into application.  X-Mas Tree Clips provide a lightweight fastening solution that  reduces vibration. They are ideal for applications on softer materials because the plastic won't mar or scratch the surface.
Christmas Tree Clips help secure and fasten components and/or panels to a wide variety of materials such as wood, metal, particle board, plastic and rubber surfaces. The barbed teeth or ribs deflect when pushed into the hole, then spring back for a secure, non-removable lock. X-Mas Tree Clips are corrosion, abrasion and vibration resistant. They fit in a variety of hole sizes and panel thicknesses, and can be used in blind hole applications.
Barbed teeth dig into the panel
Permanent lock
No tools required
Corrosion resistant
Vibration resistant
Lightweight
Applications for X-Mas Tree Clips:
Automotive
Appliances
Furniture
Medical
Military
Audio and video equipment
Telecom and Datacom
Patch panels and distribution racks
Display racks
​
About AdvanceBasics Products:
Advance Components carries a large inventory of high quality, competitive-priced products for our customer's needs. When customers can't find the part they need because its not made anymore, or the price is too high, Advance offers quality substitute products. We offer low minimums, in-stock solutions and on-time delivery on all AdvanceBasics products. Our products are guaranteed, as we stand behind every product that we stock and ship. Available to purchase online, or contact the Advance sales team for applications support, quotes and samples.