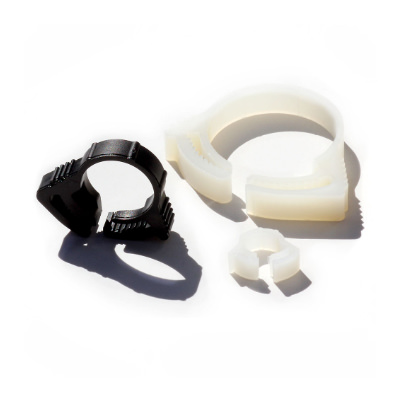 Nylon Hose Clamps provide a secure grip on liquid, gas or vacuum lines or tubes. They are the ideal fastener for industrial projects that need a leak-proof lock. Nylon Hose Clamps have an overlapping ring of nylon that is fastened around the hose or tubing, and secured to the required tightness by compressing interacting groves in a ratcheting fashion, creating a tight sealing application.
They are easy to remove and reuse by simply separating the clamping halves in a perpendicular direction at the seal. Available in natural or black, Hose Clamps are made of highly durable and crack resistant Nylon 6/6. They are safe for use in outdoor or indoor applications.
Variety of bundle diameters
Lightweight
Resistant to corrosive substances
Nylon 6/6
Secure grip
UL approved
Available in natural or black
Easy to install, remove and reuse
Vibration resistant
Applications for Nylon Hose Clamps:
Automotive
Electronic equipment
White goods
Construction
Fabrication
Plumbing
Manufacturing
Electrical
HVAC
Marine
Military
About Essentra Components/Micro Plastics:
Essentra Components manufactures nylon fasteners that are used a variety of industrial applications. Essentra Components is comprised of three companies: Micro Plastics, Richco Inc., and Alliance. Advance Components has been a master stocking distributor of Micro Plastics products for over 20 years, so we are now happy to offer our customers products from the Essentra Components line. Advance Components has an extensive inventory of Essentra Components fasteners and a dedicated sales team that is able to provide custom solutions to meet your specific assembly needs. If you are unable to locate a specific part, contact the sales team and we will work with you to find a part or substitute that will meet your requirements.