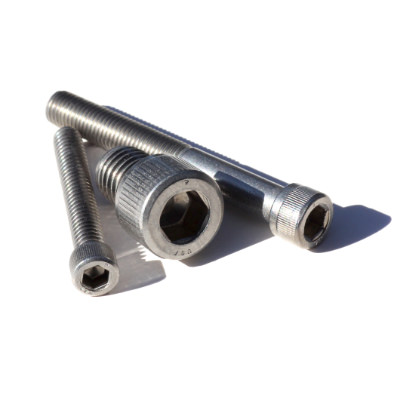 Socket Head Cap Screws are heavy duty screws made from DFARS sourced alloy steel. Manufactured in the USA by Parker Fasteners, these strong externally threaded screws offer the highest strength for commercial fasteners, and are the ideal fastener where there is not sufficient space for wrenches or sockets. They are often used in machine assembly and other industrial uses where panel installation requires a smooth appearance and elimination of bulky parts.
In many assemblies, using Socket Head Cap Screws requires fewer screws as they are stronger than conventional screws. A hex key or allen wrench is used on the internal hex socket drive to install the screws into applications that do not have enough space for traditional wrenches or sockets. Alloy steel provides a reliable response to heat treatment and it is both tough and strong at high strength.
Available in #0 to 5/8″ diameters
Knurled heads are available
Variety of inches or metric sizes
Corrosion and heat resistant
DFARS compliant
Manufacture's certs included
Easy to install with allen wrench or hex key
Strong holding power
Made in the USA
Applications for Socket Head Cap Screws:
Military
Oil & gas
Power generators
Solar
Electronics
Truck & trailer
Firearms
Government
Critical Use
About Parker Fasteners:
Parker Fasteners is the leading domestic manufacturer of cold head socket drive fasteners. Located in Buckeye, Arizona, Parker Fasteners sources all raw materials from American sources, and is DFARS compliant. Certified ISO 9001:2015/AS9100 Rev D., Parker Fasteners products meet the highest standards in the industry. Advance Components is a master stocking distributor of Parker Fasteners' Socket Head Caps Screws. Contact Advance for applications support, quotes and samples.