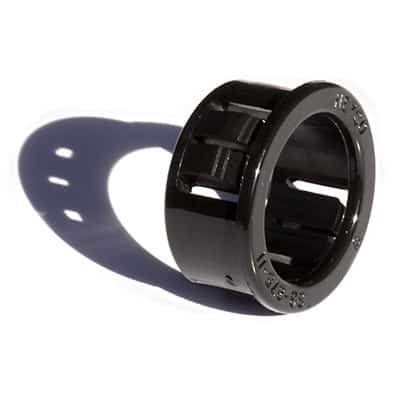 Snap Bushings are used to convert raw-edged holes into uniform, smooth holes so that wires or cables are protected from abrasions and cuts. Snap Bushings simply snap into place to provide excellent insulation and protection for electrical wires and cable, tubing, utility lines and rope.
Molded in Nylon 6/6, Snap Bushings easily install with fingertip pressure to lock into place, and withstand a push back force up to 35 pounds. They are suitable for critical or elevated temperature applications, and come in a large offering to suit hole diameter and panel thickness. They are resistant to corrosion and abrasion, and are safe for use in outdoor or indoor applications.
Variety of sizes
Lightweight
Resistant to corrosive substances
Nylon 6/6
No tools required
Available in black
Easy to install, remove and reuse
Vibration resistant
Resistant to most chemicals
UL94V2
Applications for Snap Bushings:
Automotive
Electronic equipment
White goods
Construction
Fabrication
Furniture
Vending/ATM
Manufacturing
Electrical
HVAC
Security
Military
Marine
About Heyco Products:
Heyco is the leading domestic designer and manufacturer of molded and stamped components for wire management and protection. They use the latest technology to make high quality injection molded products made of 6/6 nylon, polycarbonate high temperature 4/6 nylon, halogen-free VO nylon, polypropylene and other materials. Heyco manufactures products for a variety of industrial applications including Liquid Tight Cordgrips, Strain Relief Bushings, Dome Plugs, Clamps, and Solar Cable Clips. Advance Components is a master stocking distributor of Heyco. We carry a large variety of products and have a dedicated sales team that is able to provide custom solutions to meet your specific assembly needs. If you are unable to locate a specific part, contact the sales team and we will work with you to find a part or substitute that will meet your requirements.
​