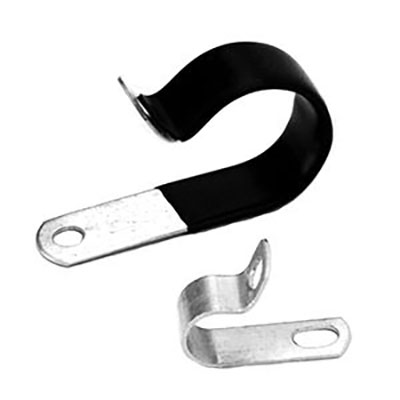 P Clamps or Tube Clamps provide a secure grip on bundles of wires, cables or tubes. They are the ideal fastener for industrial or construction projects that have long runs of bundled tubes or cables. P Clamps are easy to mount bundles to walls, ceilings, components, or any other surface, and have a simple design that allows the installer to easily open and close the jaws of the clamp with just one hand.
Polyethylene steel P Clamps resist moisture and UV rays, making them ideal for outdoor use. Both coated steel and aluminum P Clamps are safe for use in outdoor or indoor applications.
Variety of bundle diameters
Lightweight
Resistant to corrosive substances
Available in coated polyethylene or aluminum
Easy to install, remove and reuse
Vibration resistant
Applications for P Clamps:
Automotive
Electronic equipment
White goods
Construction
Fabrication
Signage
Vending/ATM
Manufacturing
Electrical
HVAC
Security
Military
About AdvanceBasics Products:
Advance Components carries a large inventory of AdvanceBasics which are high quality, competitive-priced products for our customer's needs. When customers can't find the part they need because its not made anymore, or the price is too high, Advance offers quality substitute products. We offer low minimums, in-stock solutions and on-time delivery on all AdvanceBasics products.
Advance Components has a dedicated sales team that is able to provide custom solutions to meet your specific assembly needs. If you are unable to locate a specific part, contact the sales team and we will work with you to find a part or substitute that will meet your requirements.